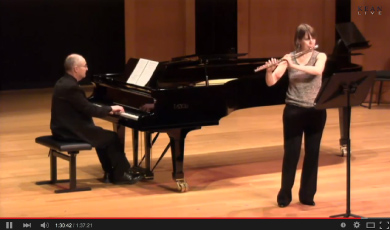 "In Bellum Primum" World Premiere
The world premiere of 2012 Latin Grammy award winner Yalil Guerra's "In Bellum Primum" at Enlow Hall, Kean University, with pianist Martha Marchena.
LIVE RECORDED CONCERTS
St. Cecilia Orchestra Presents
"A Tribute to Alberto Ginastera"
Conducted by Peter Bay with featured guest soloist Flutist Lisa Hansen in Ginastera's Impresiones de la puña for flute and orchestra. Also, on the program was Ginastera's Variaciones Concertantes for orchestra, and his harp concerto, featuring harpist Nancy Allen.
Selected recordings from live concert:
1) Quena

2) Canción

3) Danza

"The flute piece… Is from the Argentinian composer's early nationalistic period. A very lush and romantic work, it was a perfect vehicle for Hansen's flawless playing. She gets as lovely as sound as you'll ever hear from a flute, and her playing is particularly appealing in the lower register."
-THE SUNDAY GAZETTE
Read Full Sunday Gazette Review…
"Hansen was the exemplary soloist in the opening three Impresiones de la Puna for Flute and Strings, Ginastera's musical impressions of the desert region of northwestern Argentina. Hansen was right at home with these folk like melodies, written when the composer was only 18. She soared lyrically on air for the first two movements and bounced nicely in the South American dance of the third movement."
-THE TIMES UNION
All Seasons Chamber Players
Trio in E Minor for Flute, Cello & Piano, Opus 45 by Louise Farrenc. Guest cellist Daryl Goldberg. (May 5, 2019)

Amirov Flute/Piano Duo (from the All Seasons Chamber Players CD Highlights of 2015)

Carmen Rhapsody – George Bizet / Michael Webster (from the All Seasons Chamber Players CD Highlights of 2018)

TELEVISED

Barron Arts Center Concert
Barron Arts Center Concert featuring the All Seasons Chamber Players. Televised live Saturday, February 14, 2015 on Channel 35.

Paula Robison, CBS Interview (1981)
Charles Kuralt profile of flutist and Julliard teacher Paula Robison. A glimpse of my student days at Juilliard.

Juilliard & Beyond – A Life In Music
(Excerpt)
FAMILY COLLABORATIONS

The first performance of "Fantasie"
Hansen/Hamme Family Quartet concert. The first performance of "Fantasie", Michael Cohen, written for the Hansen/Hamme family.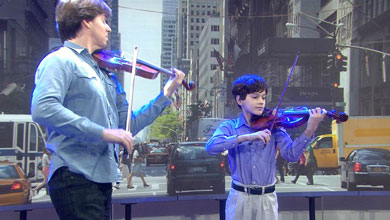 11-year-old violin star gets surprised by his idol
Dylan Hamme is a talented 11-year-old violinist who plays on the streets of New York City for tourists. His idol, musician Joshua Bell, surprises him on the Today Show and asks to play a duet on live TV!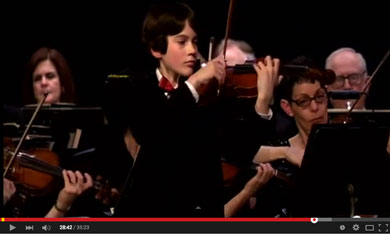 Edouard Lalo's Symphonie Espagnole
Dylan Hamme's official concerto debut of Edouard Lalo's Symphonie Espagnole. Performed with the Bergen Philharmonic Orchestra on March 28, 2015.
WRITINGS
Please visit Lisa Hansen's author page to learn more about her writing and her debut novel Only the Moon Can Say

mothersalwayswrite.com/mothering-mom
"Mothering Mom" Mothers Always Write (PDF)


"Once on This Island" LEXUS MAGAZINE (PDF)


"A Musical Portrait – Cécile Chaminade"
SIGNATURE (PDF)